Starbucks 3 Region Blend, 2013
Decided to go out this morning and grab a bag of Starbucks 3 Region Blend. I usually don't like blends because they are from multiple regions of the world and so you can't quite get the full experience of any certain region because they are mixed together. I guess I was feeling adventurous!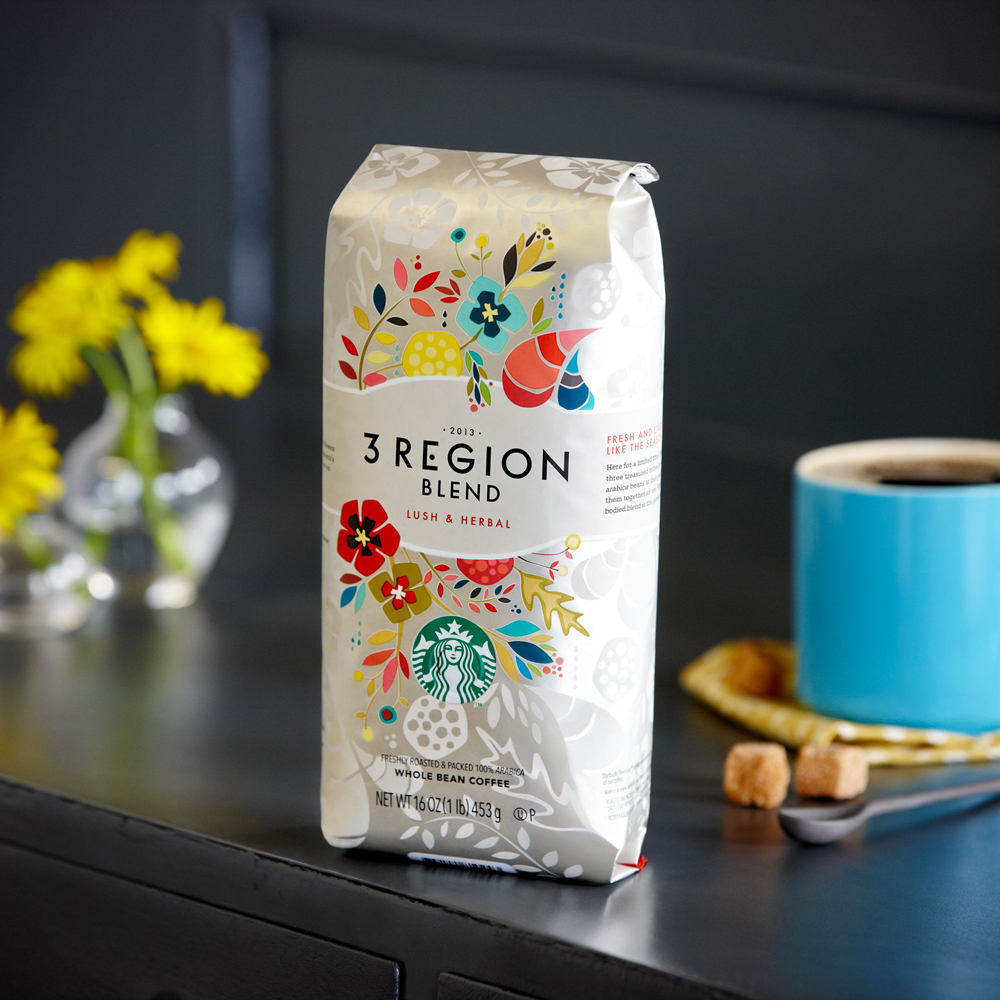 As a graphic designer, I am automatically drawn to attractive packaging. I always judge a book by its cover because if the cover isn't amazing, what makes you want to pick it up? Sure, you shouldn't judge everything that way, but if your design or package isn't drawing the eyes of the very people you intend on selling to, then you've failed.
As for the rest of Starbucks line up, they've oust the old packaging and went with a more generic design which as a graphic designer, is pretty disappointing, but who cares – you're there for the coffee, not the packaging. Some of the best coffee I've had from around the world (non Starbucks) has had some of the most simple, plainly-designed packages.
As for the coffee itself, it's pretty good.. not Mind-blowing, but it's definitely something I'll pick up again next year.
I ran across another review of this coffee that describes it pretty well! This will give you a better idea.
3 Region Blend is a great coffee because it is made from great coffees. The floral notes delivered by the African coffee makes for a very pleasing aroma and a subtle sweetness as you first sip. This is balanced out by the richness and earthiness of the Asia Pacific coffee which gives 3 Region Blend its herbal notes and smooth body. Lastly, the citrus notes of the Latin American coffee deliver a bright clean finish which I find very enjoyable in my coffee. Each coffee in this blend complements the others perfectly and makes for a lovely balance of flavors.

If you enjoy pairing coffee with food then 3 Region Blend is very versatile. I love the iced lemon pound cake from Starbucks and this coffee pairs well with it. I even paired this coffee with a fruit salad and it was delicious.

I enjoy this coffee because it has something for everyone. It's a little floral, a little earthy and a little citrusy. If you like balanced coffees then you will enjoy 3 Region Blend."
Overall, I would recommend this. The medium-roast isn't too heavy and is perfect for early morning enjoyment. Go pick yourself up a bag today! As for the packaging, I'm always impressed with Starbucks special blends and coffees. Maybe I'll get the chance one day to be in on that! I did my own packaging for Tanzania fair-trade coffee last year thats pretty cool. I'll be sure to post that up soon!  Keep checking back. Thanks for reading!- Tyler